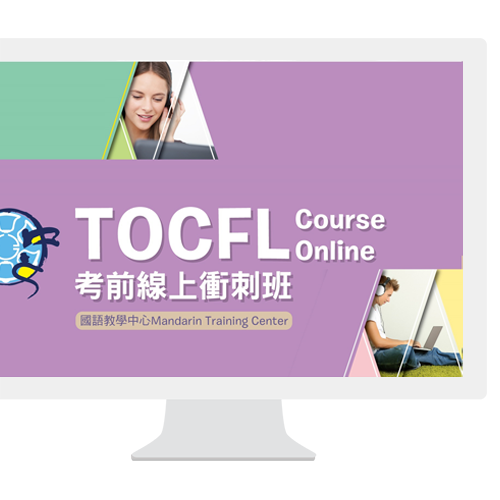 2019 TOCFL Course Online
MTC Online aim to help students preparing the TOCFL, and invites the writers of the TOCFL handbooks to give the class.


Features
Teachers are familiar with the test format and are able to hold a mock examination during the courses.
The course is totally real time (not asynchronous online video class) and highly interacts with our teachers.
Application Dates and Class time(showed as Taiwan time)
Application deadline: Sep. 30th, 2019.
Class time: Oct. 30th, Nov. 1st, 4th, 6th, 8th, 16:20~17:10; 17:20~18:10
1 hours per session, and 5 sessions in total.
Download Brochure
Người việt nam
| Level | Performance Descriptors |
| --- | --- |
| A1 | Can understand basic phrases and familiar words provided that the other person talks slowly and clearly and is prepared to help. |
| A2 | Can understand commonly used expressions and catch the main point in a short conversation when it is conducted slowly and clearly. |
| B1 | Can understand the main points of clear standard speech on familiar matters regularly encountered in work, school, and leisure, including short narratives. |
| B2 | Can understand the main ideas of propositionally and linguistically complex speech on both concrete and abstract topics delivered in a standard dialect, including technical discussions in his/her field of specialization. |
| C1 | Can understand enough to follow extended speech on abstract and complex topics outside his/her own field, even when the presentation is not clearly structured and when relationships are only implied and not signaled explicitly, though he/she may need to confirm occasional details, especially if the accent is unfamiliar. |
| C2 | Has no difficulty in understanding specialized lectures, broadcasts, and presentations, or any kind of narration, even when the presentation is not grammatically correct or contains unfamiliar terminology. |
| Level | Performance Descriptors |
| --- | --- |
| A1 | Can get an idea of the content of simple informational material and short simple descriptions, especially if there is visual support. |
| A2 | Can understand short, simple texts on familiar matters of a concrete type which use high frequency every day or job-related language. |
| B1 | Can read straightforward factual texts on subjects related to his/her field and interests with a satisfactory level of comprehension. |
| B2 | Can read with a large degree of independence, adapting style and reading speed to different texts and purposes. Has a broad active reading vocabulary, but may experience some difficulty with low frequency idioms. |
| C1 | Can understand in detail lengthy, complex texts, whether or not they relate to his/her own area of specialty, provided he/she can reread difficult sections. |
| C2 | Can understand virtually all forms of the written language including abstract, structurally complex, or highly colloquial literary and non-literary writings. |